Overview
Pioneering new technologies and products exposes your brand to new challenges. Complex market demands, increasing government requirements, and rapidly changing technology and supply chain dynamics bear the risk of delays in market readiness. Companies need trusted solutions to demonstrate safety, confirm compliance, manage transparency, deliver quality and performance, enhance sustainability and protect their brand reputation.
Consumer Electronics
Streamline the process of bringing your consumer products to market with our testing and certification services. We'll help determine that your products conform to safety standards and meet quality and performance expectations.
Consumer electronics
High tech components (PCB, PWB, Boards, etc.)
Information technology equipment
IOT devices
Mobile and telecommunications products
Wearables
Batteries
EMC and Wireless
Our full-service EMC laboratories are accredited by numerous regulatory agencies, governments, and the International Laboratory Accreditation Cooperation (ILAC) — making us a recognized Accreditation Body in all major markets.
EMC Testing
We can perform EMC testing to the requirements of regulatory agencies, such FCC in the USA, ISED in Canada, and similar bodies in Japan, Singapore and Korea.
SAR Testing
UL provides the expert technical advice, project management and conformance testing needed to meet Specific Absorption Rate (SAR) requirements in every market.
Interoperability Testing and Certification
Our interoperability testing is just one element of a comprehensive service that guides you through every step of the conformance and certification process. You can rely on UL to help ensure that your product not only works perfectly with all other relevant devices, but also conforms to all appropriate standards and smart home platforms.
Certification schemes
Bluetooth Qualification and Certification - Assessing real-world functionality for Bluetooth-enabled products.
Zigbee Alliance Certification Testing – Verification that every platform and product meets Zigbee requirements and performs as expected.
Thread Group Certification Testing for IoT Devices - Rigorous testing for smart home products that use the Thread Protocol.
Wireless Charging Testing - Verify that your wireless charging products are compliant with industry standards.
Wireless Testing and Certification Solutions
UL's wireless connectivity package of essential testing, certifications and advisory services takes the complexity out of getting your product ready for sale across the globe. We give you and your customers the confidence that your product will connect right out-of-the-box and perform to specifications on promoted features.
Radio Testing
UL provides comprehensive radio testing, certification and advice to manufacturers worldwide, guiding you through the complexities of wireless compliance smoothly, quickly and cost-effectively.
Our full-service radio laboratories are accredited by numerous regulatory agencies, governments and the International Laboratory Accreditation Cooperation (ILAC)-recognized Accreditation Bodies in all major markets including North and South America, Europe and Asia. 
Radio Approval
Get the latest information on global radio regulations and gain knowledge on marking requirements for labels and manuals to obtain certifications from multiple countries.
Bluetooth Qualification
UL is a fully accredited Bluetooth Certification wireless test facility, covering all layers and standards of Bluetooth testing for global markets. We can work closely with you to identify qualification requirements, formulate test plans, and assist with the formal listing of your product on the Bluetooth Qualified Design List (QDL). All at a local level, wherever you are based.
5G Compliance Testing
Launch your 5G devices to the global market with confidence. We test and evaluate the safety, connectivity and performance of devices operating on sub-6 GHz and mmWave (Millimeter Wave) frequencies to global regulatory and industry requirements.
Safety
Augmented, Virtual and Mixed Reality Testing and Certification
We provide a comprehensive range of testing and certification services for your AR/VR/MR products and add-on auxiliary equipment. Our experts can perform preliminary design evaluations and testing to the upcoming UL 8400, as well as evaluate, test and certify to other local, national and international safety Standards. We can help you understand evolving safety risks, demonstrate due diligence, protect brand integrity and navigate market requirements to gain consumer confidence and launch innovative AR/VR/MR products to the global marketplace.
Electrical Safety for A/V and ICT Equipment
UL is a full-service provider offering a comprehensive range of testing for A/V and ICT manufacturers. We help manufacturers achieve the compliance credentials they need. We can help reduce your costs and accelerate your time to market by bundling our testing and certification services.
Our services include:
Safety testing to IEC 60065 and/or IEC 60950-1
Public and private training to IEC 60065 and IEC 60950-1 as well as IEC 62368-1
Gap assessment to IEC 62368-1
IEC 60065 (Ed.8) Proactive Review – Transition from seventh to eight edition.
UL Mark
62368-1 Hazard Based Safety Standard
62368-1 is the hazard-based standard that will eventually replace existing standards: IEC/EN/UL/CSA 60065, Audio, Video and Similar Electronic Apparatus, and IEC/EN/UL/CSA 60950–1, Information Technology Equipment. This new standard applies to a broad range of high-tech products from consumer electronics to office equipment and offers greater flexibility in product design, making it easier for the introduction of new technology. We have created a toolkit to help you prepare for a smooth transition from legacy standards 60065 and 60950-1, to 62368-1.
Battery Safety Testing
We test and certify virtually every type of battery available—including lithium-ion battery cells and packs, chargers, and adapters—to UL Standards as well as key international, national and regional regulations including:
UL 1642 Lithium Cell
UL 2054 Nickel Cell or Lithium/Nickel Packs
UL 1989 Standby Batteries
UL/CSA/IEC 60950 (may be evaluated in conjunction with UL 2054)
UL/CSA/IEC 60065 (batteries used in audio and video equipment)
IEC 60086-1 and IEC 60086-2 Non-rechargeable Performance
IEC 60086-4 Non-rechargeable Lithium
IEC 60086-5 Non-rechargeable Alkaline
IEC 61951-2 and IEC 61951-2 Performance of Rechargeable Ni-Cd or Ni-MH
IEC 61960 Performance of Rechargeable Lithium
IEC 62133 First and Second Edition Rechargeable Nickel or Lithium
Japan's DENAN Ordinance Article 1 Appendix 9
CTIA—IEEE 1625 and 1725
Taiwan's BSMI standards
IATA/UN DOT/UN 38.3 T1-T8 (or IEC 62281)
Energy Efficiency
Globally, energy efficiency has been recognized as one of the most cost-effective ways of reducing energy consumption, reducing pollution, and improving energy security. As energy efficiency in-country regulations become increasingly strict and complex, our frontline expertise helps you to navigate an ever-evolving regulatory landscape and helps ensure your products meet the relevant standards across global markets.
Global Market Access
UL helps to simplify multiple market compliance by bundling product tests and certifications to meet all relevant national and regional market standards. Regardless of your location, this comprehensive service simplifies the process, reduces administrative and project management costs, and accelerates access to global markets.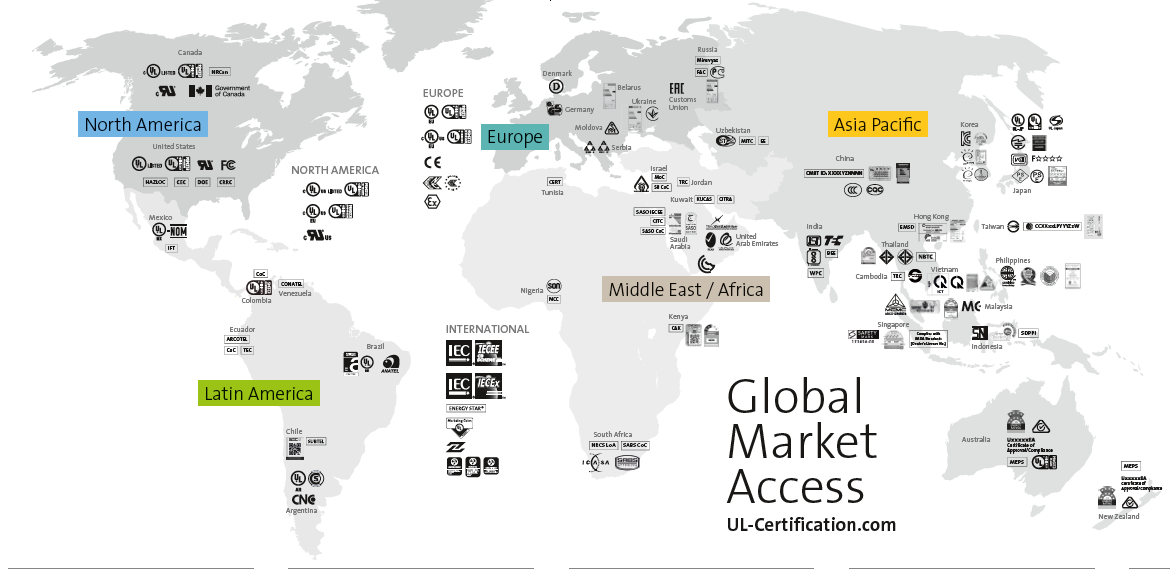 Gain Access to U.S., Canada, Europe and Japan Markets
Our Telecommunications Certification Body (TCB), Foreign Certification Body (FCB), Notified Body and Japan Radio Law Certified Services are extremely important in order to gain access to the U.S., Canadian, European and Japanese markets. Your radio products must achieve the following certifications:
Federal Communications Commission (FCC)
Innovation, Science and Economic Development Canada (ISED Canada)
CE Markings
Japan Radio Law certification
Our team of experts will assess your products, provide reports, and guide you through every step of the process. Plus, our deep understanding of global regulatory requirements allows us to streamline the compliance process, getting your products to market in an efficient and cost-effective way.
UL Certification Bodies operate under the following Radio and Telecommunication Certification Schemes:
TCB Program for FCC (USA)
ISED Canada FCB Program
EU Notified Body for Radio Equipment and EMC Directives
Registered Certification Body (RCB) Program under Japan Radio Law
Why UL
We help to simplify multiple market compliance by bundling product tests and certifications to meet all relevant national and regional market standards. Regardless of your location, we simplify the process, reduce administrative and project management costs and accelerate access to global markets.